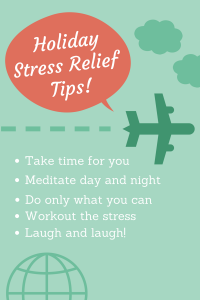 The woman looked at herself in the bathroom mirror. "I don't want to go to my aunt and uncle's for Christmas. I don't want to answer questions about why I'm not married yet or why I want to pursue my dreams."
She continued to look at herself – tears formed in her eyes. She gripped the countertop hard; her knuckles looked as if they'd rip through her skin. She took a deep breath and released it.
"Maybe this year things will be different. I can make them be different. After all, I'm an adult and my parents can't force me to do anything I don't want to do anymore. I make my own decisions."
It's supposed to be the "most wonderful time of the year." However, the holidays are the time of the year that most people despise.
While the holidays are a joy for some, for others they add more stress to their lives. Sadly, some people are driven to commit suicide for one reason or another.
Remember that you are in control of you. Whether you enjoy the holidays or not is entirely up to you.
It's possible to laugh and smile your way through the holiday season. Read on to find 10 ways to beat holiday stress. Before you know it, you'll be saying, "Ho! Ho!" instead of "No! No!" [Read more…]