Dr. Seuss' quote, "A person's a person no matter how small," from Horton Hears a Who! makes the point that YOU matter because you are you.
It doesn't matter if you have five degrees or a corporate jet. You matter because you exist.
Don't allow others to make you feel inferior. Remember, they need your consent to do so.
In The Seussification of Life: Daily Meditations for the Movin' & Groovin' Soul, you'll find 31 quotes from Dr. Seuss along with fun rhymes and exercises.
 How Dr. Seuss Teaches You that You Matter
Here's an excerpt from the first chapter of The Seussification of Life: Daily Meditations for the Movin' & Groovin' Soul.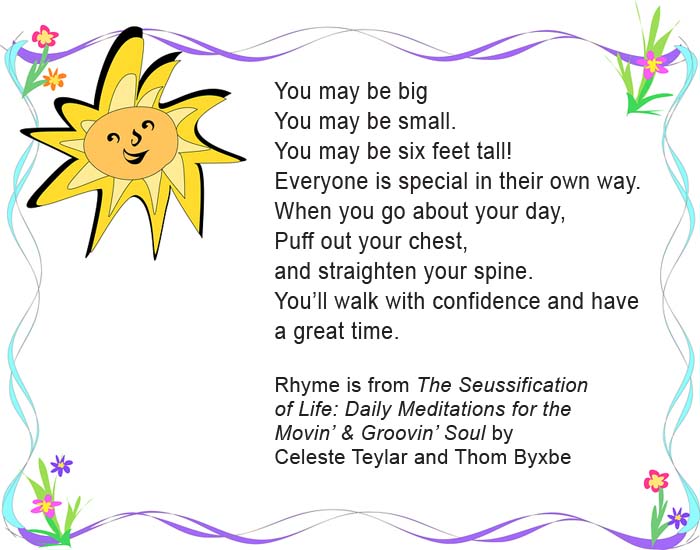 "You may be tempted to think you're small and unworthy because you haven't accomplished your dreams yet, or aren't living the lifestyle that your friends and family live. Luckily, you don't have to follow the crowd. You don't ave to drive a fancy car or live in a "McMansion." You don't have to surround yourself with things in order to stand out and make a difference. You already stand out because you are you. You can achieve our dreams if you stand in faith and stay open to opportunities. For example, have you ever been overlooked for a job promotion? You may have been discouraged and thought, The boss and upper management don't see me. But what if you were overlooked for the job promotion because there was something better on the horizon that you couldn't see? You may have felt small at the time, and you may have been upset, but what you couldn't see was the promotion that was on its way to you. A promotion that was bigger than you could have ever imagined."
Do you see how you matter because you are you? Money, cars, clothes, etc. can be gone in a flash. Why? Because they're material. They can be replaced in no time.
There is only ONE you and YOU matter.
You matter because you are here.
You matter to those who are near and dear
You matter so do not fear that you don't.
How do you teach those in your life that they matter? Share your tips in the comments below.