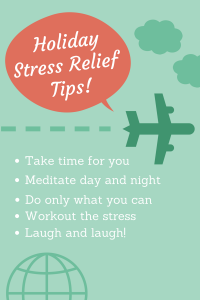 The woman looked at herself in the bathroom mirror. "I don't want to go to my aunt and uncle's for Christmas. I don't want to answer questions about why I'm not married yet or why I want to pursue my dreams."
She continued to look at herself – tears formed in her eyes. She gripped the countertop hard; her knuckles looked as if they'd rip through her skin. She took a deep breath and released it.
"Maybe this year things will be different. I can make them be different. After all, I'm an adult and my parents can't force me to do anything I don't want to do anymore. I make my own decisions."
It's supposed to be the "most wonderful time of the year." However, the holidays are the time of the year that most people despise.
While the holidays are a joy for some, for others they add more stress to their lives. Sadly, some people are driven to commit suicide for one reason or another.
Remember that you are in control of you. Whether you enjoy the holidays or not is entirely up to you.
It's possible to laugh and smile your way through the holiday season. Read on to find 10 ways to beat holiday stress. Before you know it, you'll be saying, "Ho! Ho!" instead of "No! No!"
Holiday Blues: 10 Ways to Beat Holiday Stress
Realize that no one is perfect 
No one is perfect! If you're supposed to make Thanksgiving or Christmas dinner, you may want to ask for help. Have kids (if older) chop carrots and celery. Get your spouse or partner to pick up last minute items. And for goodness sake, stop comparing yourself to the chefs on TV shows like The Chew! Do the best you can.
Take time for you
Give yourself permission to do nothing. If you want to take a nap, do it. If you want to get a massage, get one. If you want a manicure, schedule an appointment. Pamper yourself, be good to yourself. The holiday stress will melt away in no time.
Meditate day and night 
Meditation is a miracle. Take 5 or 10 minutes to meditate each day and night. Focus on your breath and allow the stressful thoughts about the holidays drift out of your mind. You may want to incorporate deep breathing as well.
Do only what you can
You don't have to be Holiday Superman or Superwoman. Do only what you can and take one day at a time. Remember, the holidays are only here for a short time. Don't give them power over you because they'll be gone before you know it.
Focus on the good times, past and present
Take a few minutes to remember the good times from the past and present. Did you take that European vacation? See the vacation in your mind and remember how much fun you had. Maybe your kids made you breakfast in bed for your birthday. Remember how you felt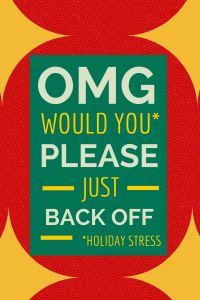 when they surprised you. Focus on the good times and bring that into your holiday season.
Learn to say No! 
Children are great at saying, "No!" Reconnect with your inner child and practice saying, "No!" You don't have to please everyone by over committing yourself to this or that.
What others think is none of your business 
You have no control over what others think about you, so forget about it. If your grandma or aunt continues to point out that you're not married, gently remind them that it's your life and walk away. You can't force others to change their minds or perspectives – don't waste your time.
Workout your stress 
Beat the stuffing out of holiday stress at the gym or at home! If your gym offers kickboxing, sign up for a class. Workout your holiday stress by beating the heck out of the bag. You may consider signing up for a yoga class too. If you work out at home, turn it up a notch with an intense all over body work out. Not only can you melt away the holiday stress, but you'll shed a few pounds too.
Be grateful for what you have 
Make a list of what you're grateful for. Perhaps you have a job you love. Maybe you've met the man or woman of your dreams. Once you've finished your list refer back to it often. You won't have time for holiday stress because you'll see that you have much to be grateful for.
Laughter is the best medicine 
Doctors say that laughter is the best medicine. Why? Because it can boost your mood and make you feel better. So…You may want to watch comedy TV shows and movies. You won't feel blue about the holidays after a few belly laughs! In fact, you may find yourself laughing about holiday stress.
If you've enjoyed this post, I would be grateful if you shared it on your favorite social media network and/or emailed to those who can use help beating holiday stress. Let's help each other during the holiday season and throughout the year.
Over to you. How do you beat holiday stress? Let me know in the comments below.